As an administrator you have the ability to edit a large number of different functions on the site.
Curation of articles in communities and collections is ideal to check if all the information in the article is correct, all the required fields are populated, or for checking urls or if links in the article require authorization.
This is also useful for virus checking. To curate a collection or a single item within it, first go to the communities and collections menu through content/communities and collections.
• To curate a single article, first find the article and click on it. Then go to 'edit, admin mode.'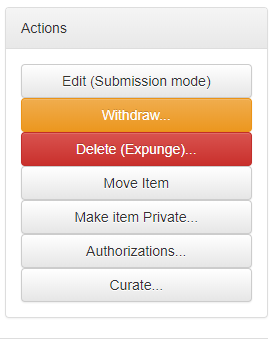 To curate a community, click on the community you want to curate, click 'edit' and then where the option 'collections curations appears' click 'curate'.
To curate a whole collection, click on the collection and then, on admin tools, select 'curate collections.'
You may also curate with content/ curate tasks. This can allow you to curate even wider objects, such as the entire site. Here you can also use bit stream or metadata options.